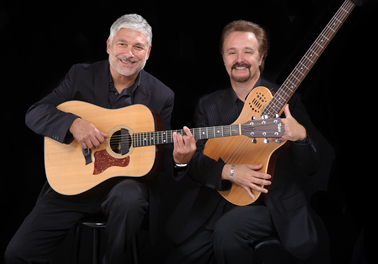 Long-time friends, Bob Fowler and Steve Branca worked together in bands since 1979 and have written and recorded original music together for over 30 years.

Their unique songwriting style incorporates an eclectic mixture of genre including World, Latin, Jazz, Smooth Jazz, R&B, Latin, and even a bit of Country. Their melodies and arrangements are beautiful, memorable, and create a vibe that is relaxed, thoughtful, positive and uplifting. As many a fan has described, "It is the ultimate chill music" perfect for long drives, quite get-togethers and intimate moments.

Though most of their collaboration has been in the confines of the recording studio, recently at the request of friends, Fowler and Branca took their music on the road performing songs from their CDs and a few new compositions for a few special functions. The experience was great success and everyone attending encouraged continued performances. Bob and Steve found playing live together really enjoyable and it has sparked an exciting beginning to a new career as performance artists.

Fowler and Branca are a perfect addition to special social events, cocktail parties, corporate functions, stores /galleries openings and other situations that call for a unique, relaxed atmosphere enhanced by beautifully composed, original music.

Short History

In 1990 Fowler and Branca signed with Silver Wave Records (Boulder, CO) and released their first CD "The Face On Cydonia" in November 1991. The Album was received favorably by radio stations in the US and abroad, reaching into the Top-15 on all the NAC/AA national charts and to #9 in GAVIN. Music from "TFOC" was also used on several cable network TV shows such as; "Life Styles of the Rich and Famous" and "The Weather Channel."

Fowler and Branca released two subsequent CDs ("Etched in Stone" and "Three Flights Up"), under the SilverWave Label, as well as several compilation CDs. All three CDs were distributed internationally and aired on over 350 radio stations in the US featuring Jazz, Smooth Jazz, New Age and even Country music formats.

Additionally, Bob Fowler and Steve Branca have penned dozens of titles for top Music Libraries, which have been distributed extensively for film, television, radio and internet. One notable library project was to compose background music for ABC's 20/20 prime time news magazine program.

In 2011 Fowler and Branca released their fourth CD "If Wishes Were Horses, Beggars Would Ride" an inspiring collection of well-crafted songs and their best effort to date.