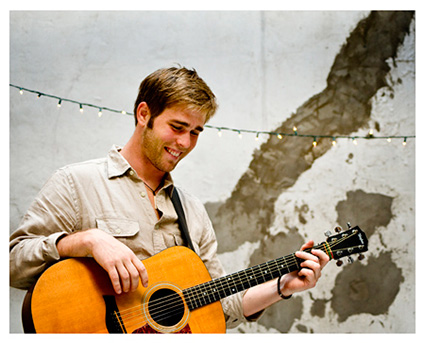 The charming authenticity of Ryan Tennis' sound has drawn comparisons to Paul Simon, Bill Withers and Martin Sexton, surprising likenesses for an All-American college football player turned singer/songwriter. While his disarming lyrics and singable melodies display a rare sensitivity, the intensity of his live performances hint at his grid-iron past.

Tennis took a big stride in 2011, releasing a new collection of upbeat, emotionally nuanced songs — Goodbye To The Ground. The release also served as a fundraiser in conjunction with non-profit group The Philadelphia Sessions, which sent him on a Latin American tour to start 2011, the latest of his international excursions. Past tours have led him to Ireland, Australia, Bangladesh, Cambodia, Thailand, Costa Rica, and Laos, as well as venues up and down the east coast (Iota Club and Cafe in DC, the Living Room in NYC, Philadelphia's World Cafe Live).

Tennis' eventful year started with the emergence of his single "To The Moon" as a local crossover hit. With a video by Emmy-winner Brook Silva-Braga, the song's sweet strains and optimistic message earned it repeat airplay on multiple formats, including WMMR and WXPN. He has since appeared on NBC's "The 10! Show" and 6abc's "Tuned In." In April, Tennis emerged atop more than 600 entrants in the Philadelphia Songwriters Project 2010 Contest, winning over a seasoned industry panel to take the prize. He has twice opened for Shawn Colvin, debuted with his band at the Philadelphia Folk Festival in August, and shared the stage with folk legend Ellis Paul. He has since been nominated by Origivation magazine and WSTW Hometown Heroes as Philadelphia's singer/songwriter of the year, and was selected as a finalist in both the UK Songwriting Contest and Ireland's international Tipperary Peace Song Contest.

Tennis credits Philadelphia's music scene with inspiring his sense of groove. He's organized a monthly series of "Clubhouse Concerts" in his home featuring standout musicians and reaching beyond the traditional folk scene. "What I learned from a couple years of listening to and playing with other Philly artists," Tennis says, "is that if it feels good and it sounds good — and if it's true — then it's good music."

Ryan is heading into the studio in the winter of 2012 to begin work on his first full length album.