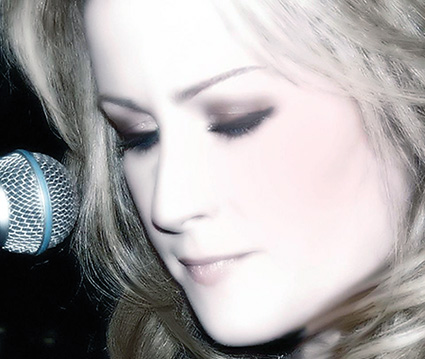 If you can imagine Sheryl Crow meeting Bonnie Raitt in a corner bar as they kick back a few cold ones with Lucinda, then you'll have no problem envisioning PATTY BLEE pulling up a stool and fitting right in. Her husky voice, confessional songs and rootsy sound have earned her numerous comparisons to such artists. Her latest project, the EP "FROM THE INSIDE" is 6 tracks of pure heart and soul, memorably solidified by a strong and unmistakable voice surrounded by some of the finest americana musicians around. This release is a refreshing look at a genre that increasingly knows no bounds, inspired by her travels from coast to coast and heart to heart.
Displaying a distinctive guitar style full of bass lines and grooves, Patty intertwines memorable melodies into mid and uptempo songs of love and longing. A wide range of influences are evident in her musical pallet-- blues, folk, country, and rock.

Patty's previous recordings include her Treasure Records debut "DISGUISE" released in 2003. It is a testament to her work that she was able to assemble an all-star cast to help record her songs. Co-produced by Randy Friel (BeauSoleil) and Richard Crooks (Dylan, Dr. John) at Scullville Studios in NJ, mixed by legendary recording engineer Shelly Yakus (John Lennon, The Band, Tom Petty), "DISGUISE" is sure to have a permanent spot in any aficionado's collection. The stellar group of talent behind Patty includes Bob Dylan band regulars Larry Campbell on guitar and Tony Garnier on bass, with Richard Crooks on drums. John Hammond Jr. makes a guest appearance on harmonica as well as Augie Meyers (Bob Dylan, Tom Waits, Doug Sahm) on accordion. Even violinist / vocalist Soozie Tyrell (Bruce Springsteen) lends a hand.

"In short, I was knocked out.," said Peter North, Music Director of CKUA (Edmonton, Canada)

The Atlantic City Press said the "DISGUISE" displayed, "wonderfully written and crafted songs." and was chosen 17 in their list of the top 50 CD releases for the year.

A pivotal stepping stone in Patty's run of success was her performance at the 2002 Appel Farm Music and Arts Festival (NJ) alongside the likes of Jackson Browne and Jonatha Brooke as well as an appearance on the renowned "Folk Show" on WXPN in Philadelphia with Gene Shay.

Patty's next release, "ACOUSTIC VIBE", is a collection of stripped down acoustic arrangements of songs from "DISGUISE" as well as a batch of new, emotionally revealing songs. A representation of how she is most comfortable...just her and her guitar. As Blee told Atlantic City Weekly, she has always been inspired by "acoustic-based singer-songwriters - artists who display incredible courage by what they reveal of themselves."

"Songs written by the blood of the heart appeal to me." Born and raised in Brigantine, NJ, East Coast resident Patty Blee is an acoustic guitar-playing singer/songwriter with an earthy roots/rock, country/folk sensibility citing country-pop favorite Emmylou Harris and folk-pop icon Joni Mitchell as early inspirations. Growing up in Brigantine (which is on the southern New Jersey Shore near Atlantic City), Blee started listening to, as she puts it, "acoustic-based singer/songwriters," at an early age. In addition to some of the abovementioned female artists, Blee was a big fan of male folk-rock favorites like Jackson Browne and Crosby, Stills, Nash & Young. In the '90s, Blee became an admirer of Crow, Patty Griffin, and Shawn Colvin (although she has a grittier, more rugged approach than Colvin and doesn't get into the type of girlish, waif-like singing that Jewel and Suzanne Vega are known for). Performing along the South Jersey Shore for a while now, Blee continues to broaden her reach playing original and cover music in her own unique fashion.
With all the live performance, whether with a band, in a show, backing a major act, or just playing acoustic guitar and singing, it is the opportunities to work in a studio situation that she holds closest to her heart. This becomes very apparent when you check out her newest CD "Path Of Persistence" . Her versatility and industry professionalism is shown in the various jingle and other studio recordings on this site. She is equally adept at lead and background vocals, and is especially sought after for background vocal arrangements

Patty performs around 200 live dates a year, in various bands and styles.