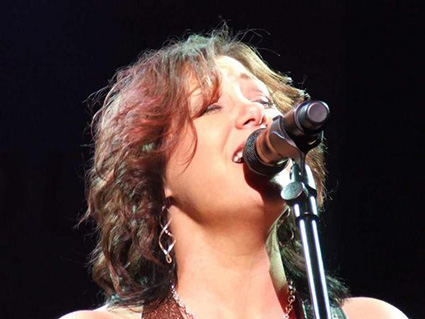 Patty has been doing this "singing" thing professionally for a close to twenty years now, and it has afforded her some very cool opportunities...Like performing on stage at Madison Square garden, The Philadelphia Spectrum, and singing the National Anthem at the First Union Center, as well as backing up singer Shawn King on Late Night With Conan O'Brien. She has also graced the stages of quite a few Casino and resort showrooms, both large and small, all over the country, as well as cruise ships!

With all the live performance, whether with a band, in a show, backing a major act, or just playing acoustic guitar and singing, it is the opportunities to work in a studio situation that she holds closest to her heart. This becomes very apparent when you check out her newest CD "Path Of Persistence" . Her versatility and industry professionalism is shown in the various jingle and other studio recordings on this site. She is equally adept at lead and background vocals, and is especially sought after for background vocal arrangements

Patty performs around 200 live dates a year, in various bands and styles.